Frequently Asked Questions
Questions Asked... Frequently?
ORDERING
+
−
How do I place an order?
You can browse all products using the products link at the top of the page. Every product page has three options, ORDER for placing orders of existing artwork/products, ART DEPARTMENT for new artwork or products and HELP to contact our support team directly.

Freephone NZ 0508 467 264 AU 1800 106 296
MAKE A NEW ORDER: orders@orangedog.co.nz

*Make sure you give us enough details in your email so we know what product you want to re-order or make changes to.
+
−
How do I get a new design?
Simply email our Art Department below – Just let us know what you are after, our team will do their best to satisfy your needs.

Alternatively, you can give us a call! If you are unsure what you are after our team are always happy to discuss options. 

ART DEPARTMENT: art@orangedog.co.nz
+
−
I'm not happy with the product I received, what do I do?
We back our products 100% and offer full replacement for any reason, as well as any other consumer rights you're entitled to.
Get in touch to ask use about replacements. support@orangedog.co.nz
PRODUCTION
+
−
What about quality?
At Orange Dog, this is the point of difference for us, we pride ourselves on developing 'one of a kind' products built specifically for purpose. Our products have been designed and developed over years of innovative research and testing to ensure our clients are receiving a product they know is the absolute best on the market.If you want to know more about how Orange Dog has become the Southern Hemisphere's go to quality automotive print supplier, get a hold of us using the contact form below! 
+
−
How long does it take?
Production times do vary between different types of products, our standard time-frame is approximately, 10-12 working days.
For a more accurate estimate, feel free to contact us for an update on your order progress and we can let you know when you can expect to receive goods!
If it is crucial for you to have your order urgently, we do have provisions in place for this to avoid delays, please pass this onto the person responsible for purchasing BEFORE final products have been used.
+
−
Can I place an order over the phone?
Of course! We would love to hear from you, feel free to call us if you wish to re-order more products.

Tip: Keep any extra product as spares so you don't run out before your next order! Visit our contact page for more details on placing an order.
+
−
What if something is wrong?
Sometimes mistakes can happen. Orange Dog stand by errors or faults and give that old school quality back up and service attitude when it comes to resolving any issues you have. If you have any problems regarding a product order you have received please contact us.
+
−
How long do the Lubes & Vinyls last?
Vinyl Labels
Not only do we produce our own stickers in-house, we have also developed our own equipment and production methods to ensure we everything we ship is to a very high standard, something that suppliers using 'off the shelf' equipment can't do. It also means we're continually testing and improving. A UV rated adhesive means the stickers will stick and provides protection against print fading. A clear synthetic 'carrier' layer means the labels stay together and will be easy to remove when it comes time for replacement.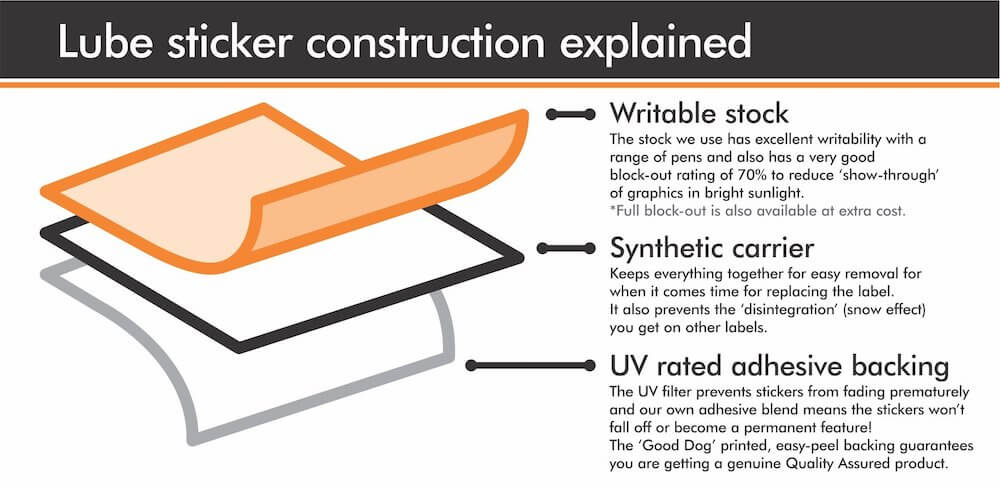 Vinyl Labels
We use a cast 7 year rated vinyl, which is as good as it gets, but we go further by adding a clear laminate for increased protection and virtually eliminates damage from solvents or scratches. Our standard stock also comes with an 'extra hi-tack' adhesive to ensure the stickers stay where they're meant to. Check out THIS graphic for details at a glance.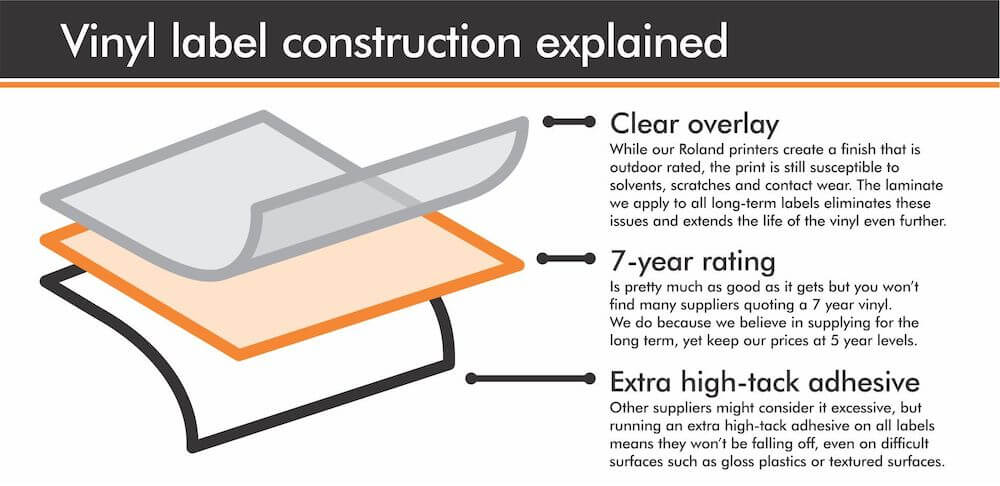 SHIPPING
+
−
Will I know once my order has shipped?
Yes! As soon as our dispatch team has assembled your package for the courier you will receive a tracking number direct to your email. This means it is important to keep your email address and shipping address up to date in our records. If you have any concerns around where your order is, please feel free to use the contact form below or email us support@orangedog.co.nz
+
−
How long does it take?
We use Tracked Courier Post Overnight services as standard for the large majority of orders within New Zealand. Standard delivery times are 1-2 working days for Courier Post Overnight services.
Rural and Heavy deliveries can expect additional delays. Although we work tirelessly to ensure your order arrives with you as soon as possible please feel free to use the contact form or email us support@orangedog.co.nz if you would like more information about courier services.
ACCOUNTS + BILLING
+
−
How can I pay my bill?
Once you have received an invoice to your nominated email address please follow steps provided to ensure your account is settled in time. 

There are a few ways for you to make payment on your account. Note: Capricorn Members will receive a reconciliation notice and accounts are billed direct. Payment will show on the following months statement. 

If you are unsure about any of the payment methods or have any questions about payment, please feel free to contact accounts and we'll be happy to answer any questions.
ACCOUNTS: accounts@orangedog.co.nz